1)
AIM to launch new programme for Community Innovation
•Atal Innovation Mission (AIM), is an initiative of NITI Aayog is all set to launch a new program for community innovation in New Delhi. The Director of AIM Mission is R Ramanan. The main purpose of this new initiative is to make innovation ecosystem socially inclusive as well as to ensure equitable distribution of infrastructure for innovation across the country to encourage the spirit of innovation.
•This new program has been specifically designed for underserved, unserved regions of Tier 1 or Metro cities, Tier 2 and Tier 3 cities, Smart Cities, Aspirational districts, North-East, Jammu and Kashmir as well as the rural and tribal regions of India.This program will be jointly inaugurated by Union Minister of Human Resource and Development Ramesh Pokhriyal 'Nishank' and Minister of Petroleum, Natural Gas and Steel Shri Dharmendra Pradhan.
2)
Dr Harsh Vardhan celebrates the 110th Annual Day of NCDC
•Dr Harsh Vardhan, Union Minister of Health and Family Welfare at the 110th Annual Day celebrations of National Centre for Disease Control (NCDC), at this occasion Union Health Minister inaugurated the laboratory complex (Lab 3) at NCDC and the new building of National Vector Borne Disease Control Programme (NVBDCP).
3)
'Pink coaches' introduced by the Northest frontier railway
•Indian Railways 'Northeast Frontier Railway zone' has started a unique initiative to earmark a special portion of the SLR coach with pink colour. This is done to specially help the women passengers with better safety and security.
•8 trains in Rangiya division of the Northeast Frontier Railway have begun operations with some pink coaches.
4)
Pakistan opens historic Hindu temple in Punjab
•Pakistan has opened a 1,000 year old Hindu temple in eastern city Sialkot for worship for the first time since partition on the demand of the local Hindu community.
•The Shawala Teja Singh temple, located in city's congested Dhaarowal locality,some 100 km from Lahore, is more than 1,000 years old, according to the book 'History of Sialkot' by the late Rashid Niaz.
5)
South Asia Air Quality Tech Camp organised in Kathmandu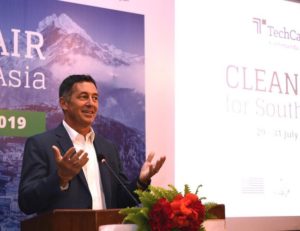 •The U.S. Embassy in Nepal has organized a South Asia Air Quality Tech Camp in Kathmandu. The aim of camp is to address political, social, and scientific facets of the problem and improve the ability of civil society, media, and other influencers to engage governments, empower the public and take action to improve air quality in South Asia.
6)
India, Mozambique sign 2 MoUs
•India, Mozambique sign 2 MoUs to strengthen defence cooperation. The two MoUs include an agreement on sharing white shipping information and another on co-operation in the field of Hydrography.
•The documents were signed following a meeting between Defence Minister Rajnath Singh and his Mozambican counterpart Atanasio Salvador M'tumuke. Rajnath Singh is currently on his first official visit abroad as the Defence Minister to the African country. This is also the first time a Defence Minister has visited Mozambique.
7)
'Indian Woman of Influence Award' received by Priya Priyadarshini Jain
•Eminent fashionista, social entrepreneur and philanthropist Priya Priyadarshini Jain has been felicitated with the prestigious 'Indian Woman of Influence' award at the House of Lords, the United Kingdom Parliament, London.
•Priyadarshini Jain for it also marked the grand launch of coffee table book on '50 most influential Indian women worldwide' featuring her as one of the most prominent personalities from India.
8)
RBI relaxed norms for end-use of money raised through ECBs
•The Reserve Bank of India has relaxed norms for end-use of money raised through external commercial borrowings for corporates as well as liquidity starved non banking lenders. The liberalisation will be applicable to ECBs taken for working capital, general corporate purpose loans or repayment of rupee loans.
9)
22nd National Conference on e-Governance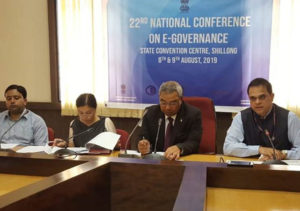 •The 22nd National Conference on e-Governance will be held in Shillong, Meghalaya. The theme of the conference is 'Digital India: Success to Excellence'. The Department of Administrative Reforms and Public Grievances (DARPG), in association with the Ministry of Electronics and Information Technology and the Meghalaya government will organise the 22nd National Conference.
10)
India signs deal to acquire R-27 Missiles from Russia
•India has signed a deal worth around Rs 1,500 crore to acquire R-27 air-to-air missiles from Russia to be equipped on the Su-30MKI combat aircraft. The R-27 missile is a medium-to-long-range air-to-air missile for MiG and Sukhoi series of fighter jets.