1)
Kerala Governor inaugurates Ayurveda summit
•Kerala Governor Arif Mohammed Khan inaugurated the 3rd edition of Global Ayurveda Summit 2019. As many as 400 industry leaders and delegates from SAARC, GCC and African countries have gathered in Kochi for the Global Ayurveda Summit 2019. The two-day summit organized by Confederation of Indian Industry (CII) will deliberate on the theme "Mainstreaming Ayurveda through Startups, Innovation and Branding".
2)
Disabled People over 80 can vote through Postal Ballot
•The people over 80 years of age and Persons with Disability can now cast their votes through postal ballot. However, such voters will have both the choices available either voting through postal ballot by following due procedure or going to the polling station on polling day for voting.
•On the recommendations of the Election Commission, the Ministry of Law and Justice has amended the Conduct of Election Rules, 1961, allowing senior citizens and person with disabilities in the absentee voter list. The person will make an application in a new Form 12 D, which will reach the Returning Officer within 5 days following the date of notification of election. After the receipt of such application, the elector will be issued a postal ballot paper, which will be deposited in the specified centre after the recording of the vote.
3)
India to adopt Brazil model of human milk bank
•India has taken inspiration from Brazil's success in the field of human milk bank decided to adopt a similar model in creating a wide network of human milk banks. The Centre has set a target of ensuring at least 70 per cent infants to have access to breast milk by the year 2025. Target will subsequently be increased to 100 per cent.
4)
Russia's Nuclear Submarine test fires Ballistic Missile from White Sea
•Russia's Knyaz Vladimir submarine of Borei-class vessel, test-fired its most advanced nuclear-powered missile named, Bulavaintercontinental ballistic missile which precisely hit the target range of 1000 km away in the Russian region of Kamchatka.
•The launch was conducted in the white sea of the northwest coast of Russia with a dummy payload. The Knyaz Vladimir submarine is the first upgraded model to be produced in the Borei class of Russian nuclear-powered ballistic missile submarines. The test-fire was conducted amid arms control tensions between Moscow and the West following the demise of a landmark Cold War-era nuclear pact.
5)
World's first blockchain-based carbon trading exchange in Singapore
•Singapore-based AirCarbon Pte launched the worlds' first blockchain-based carbon trading exchange. This will allow airlines and other corporate buyers to buy as well sell tokens backed by carbon offset credits approved by the International Civil Aviation Organisation. The company is applying to the Monetary Authority of Singapore for a recognized market operator license and targets for the exchange to be fully operational in 2020.
6)
Sanjeev Nandan Sahai appointed as Secretary, Ministry of Power
•Sanjeev Nandan Sahai assumed charge as Secretary, Ministry of Power. Prior to this, he was serving as the Special Secretary in the Ministry of Power. He is a UT cadre IAS officer of 1986 batch. He has also served as Additional Secretary in the Ministry of Power from May 2018 to July 2019. He will replace Subhash Chandra Garg.
7)
35th ASEAN Summit begins in Bangkok
•The 35th ASEAN Summit began in Bangkok, Thailand from October 31 to 4 November. The Association of Southeast Asian Nations (ASEAN) is a group of ten member countries that encourages political, economic and social co-operation in the region. The theme of the summit for this year is "Advancing Partnership for Sustainability".
•Apart from leaders of 10 ASEAN countries head of Eight dialogue partner countries including India, USA, China, Japan, Republic of Korea, Australia and New Zealand are also participating in the summit. East Asia Summit (EAS) and Regional Comprehensive Economic Summit ( RCEP) will be also held on the sidelines of 35th ASEAN Summit.
8)
Air India paints 'Ek Onkar' symbol on its Boeing 787 Dreamliner aircraft's
•National Carrier Air India has painted 'Ek Onkar' symbol on its Boeing 787 Dreamliner aircraft's tail to mark the 550th birth anniversary of Guru Nanak Dev. The aircraft will fly on October 31 from Amritsar to London. The international flight will facilitate Sikh pilgrims visiting Punjab on the occasion of the Birth Anniversary of Guru Nanak Dev.
9)
Nawazuddin Siddiqui wins Golden Dragon Award at 2019 CIFF
•Indian actor Nawazuddin Siddiqui has been awarded the prestigious Golden Dragon Award for his works in Hindi cinema at the Cardiff International Film Festival (CIFF ) 2019 held in Wales, United Kingdom. Veteran Hollywood star-actress Dame Judith Olivia Dench was also honoured with the Lifetime Achievement award at the ceremony.
10)
India drops to 106th in FIFA Men's rankings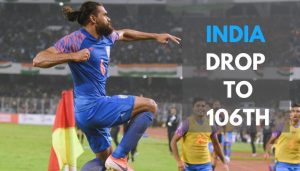 •The Indian football team dropped two places to 106th position in the latest FIFA rankings. The downward slid came following the Blue Tigers' 1-1 draw against lower-ranked Bangladesh in the FIFA World Cup qualifier earlier this month.
•Bangladesh, however, benefitted from the draw, jumping three rungs to 184th spot. Belgium has managed to hold on to the top spot, followed by France and Brazil. England is placed fourth ahead of Uruguay, Portugal, Croatia, Spain, Argentina and Colombia.
11)
Mary Kom named in IOC's 2020 Olympics athlete ambassadors group
•The 6-time world champion Mangte Chungneijang Mary Kom has been inducted into the 10-member sports ambassador group by the International Olympic Committee (IOC) on Boxing workforce to represent boxers ahead of the 2020 Tokyo Olympic Games.
•Mary Kom will represent the Asian bloc in the group, which also comprises the likes of Ukrainian legend Vasyl Lamachenko (Europe), a two-time Olympic and world gold-medallist who now plies his trade in the professional circuit, and five-time world champion and 2016 Olympic gold-winner Julio Cesar La Cruz (Americas) among others.