1)
India slips to 112th place on WEF's Global Gender Gap Report
•India has slipped four places to rank 112th globally as per the Global Gender Gap Report 2020. The report was released by World Economic Forum (WEF) headquartered at Geneva. Iceland has topped the report and remains the world's most gender-neutral country while Yemen was ranked the worst (153rd) in the report. As per report, the most improved countries were Albania, Ethiopia, Mali, Mexico and Spain. Among regions, Western Europe has made the most progress on gender parity (standing at 76.7%).
•As per WEF, the time it will take to close the gender gap has narrowed to 99.5 years in 2019 while the number was 108 years in 2018. WEF stated that this year's improvement can largely be ascribed to a significant increase in the number of women in politics.
2)
UN Medal awarded to Indian peacekeepers to support the people of South Sudan
•Indian peacekeepers have been recognized for their strong contribution to building peace in conflict-affected South Sudan as well as for going above and beyond their duties to support local communities. Almost 850 Indian troops received the United Nations Medal for their dedication and sacrifice serving so far away from home to protect civilians and build durable peace in South Sudan.
•Currently, 2,342 Indian troops and 25 police personnel are deployed with the UN Mission in South Sudan (UNMISS). The Indian troops were particularly praised for their efforts to support peace talks between Government and Opposition forces in the Upper Nile region and establishing the first-ever UNMISS base on the west bank of the Nile at Kodok.
3)
Union Rural Development Ministry selected UT of J&K for National award
•Union Territory of Jammu and Kashmir has been selected for the national award by Union Rural Development Ministry for best performance in the implementation of Pradhan Mantri Gram Sadak Yojana (PMGSY). Union Rural Development Ministry has sanctioned 147 Road and Bridge projects under PMGSY-II covering a length of 783.88 kilometres at an estimated cost of 878.53 crore rupees for Jammu & Kashmir and Ladakh. The entire road length has been sanctioned for up-gradation of existing road infrastructure with 10-year maintenance.
4)
Lt Gen Manoj Mukund Naravane to be next Army Chief
•Lt Gen Manoj Mukund Naravane will be the next Chief of Army Staff of India. He is currently serving as Vice Chief of the Army. Lt Gen Naravane will succeed Gen Bipin Rawat, who will retire on the 31st December. He has served in numerous command and staff appointments in peace, field and highly active counter-insurgency environments in Jammu and Kashmir and the Northeast.
•In a distinguished military career spanning almost four decades, Lt Gen Naravane has the distinction of tenanting key appointments in active Counter Insurgency environments, both in the North East and in Jammu and Kashmir and was a part of the Indian Peace Keeping Force in Sri Lanka during Operation PAWAN. He has been awarded the Sena Medal (Distinguished) for effectively commanding his battalion in Jammu and Kashmir. He is also a recipient of the Vishisht Seva Medal for his services as the Inspector General Assam Rifles (North) in Nagaland and the Ati Vishisht Seva Medal for commanding of a prestigious strike corps. He was honoured with Param Vishisht Seva Medal for his distinguished services as the General Officer Commanding in Chief of the Army Training Command.
5)
IAS Ravi Mittal takes charge as new I&B Secy
•IAS officer Ravi Mittal took charge as the new Secretary, Information and Broadcasting Ministry. Mr Mittal took charge from Amit Khare who has been appointed as Secretary, Department of Higher Education. Before this, Mr Mittal, a 1986 batch IAS officer of Bihar Cadre, was working as the Special Secretary in the Department of Financial Services, Ministry of Finance.
6)
5th EAC meeting of 15th Finance Commission held in New Delhi
•The 5th meeting of the Economic Advisory Council (EAC) of the 15th Finance Commission was held in New Delhi. In the meeting, possible macro assumptions related to real growth, inflation, ongoing structural reforms, tax revenue including GST, adherence to Fiscal Responsibility and Budget Management Act and fiscal transparency were discussed. Further, the Advisory Council was informed about the submission of the 2020-21 report and Commission's next course of actions pertaining to the preparation of the report for 2021-26 period.
7)
Exercise Surya Kiran-XIV held in Nepal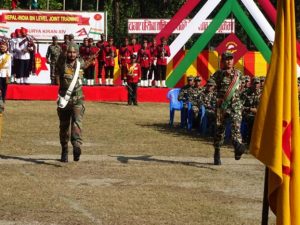 •A joint military training exercise "SURYA KIRAN-XIV" was held in Salijhandi, Rupendehi district of Nepal. The exercise was conducted between the armies of India and Nepal.
•Joint training exercise was based on counter insurgency operations in jungle and mountainous terrain and also practised response mechanism in the eventualities of natural and man made disasters.
8)
ITBP launches matrimonial site to help staff find 'suitable matches'
•In a unique approach, the Indo-Tibetan Border Police (ITBP) has started a dedicated matrimonial site for its staff. The website started will be managed by ITBP and only the staff will be able to access it. This is the first-ever dedicated and well-managed matrimony portal among the Central Armed Police Forces (CAPF). There are more than 25,000 unmarried men in the Force while more than 1000 women personnel are also unmarried. Keeping in view their duties and engagements after joining the service, finding suitable matches becomes an uphill task for the serving personnel.
9)
ICAR & NABARD signed MoU to promote agriculture & farming systems research
•The Indian Council of Agricultural Research (ICAR) and the National Bank for Agriculture and Rural Development (NABARD) signed a Memorandum of Understanding (MoU) to promote sustainable agriculture and climate-resilient farming systems.
•The research will be of active participation in climate-resilient practices, models and integrated and hi-tech farming practices in a participatory model. The aim of this MoU was to promote sustainable agriculture and climate-resilient farming systems.
10)
Unesco removes 'racist' Belgian carnival from heritage list
•UNESCO (United Nations Educational, Scientific and Cultural Organization), has removed the 'Carnival of Aalst' of Belgium from its Intangible Cultural Heritage of Humanity List. The 2019 carnival featured a parade float that included racist and anti-Semitic representations which mocked the Orthodox Jews. The carnival was added to the Intangible Cultural Heritage list in 2010.