1)
International Migrants Day: 18 December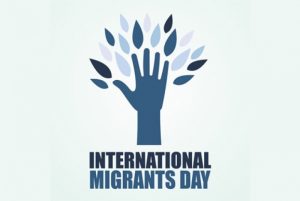 •The International Migrants Day is organized across the world on 18th December to protect the rights of migrant workers and members of their families. In Dec 2000, the UN General Assembly proclaimed 18 Dec as International Migrants Day after considering the large and increasing number of migrants in the world.
•The International Organization for Migration salutes migrants and the communities they join, the communities they remake through their mutual effort. We salute them and we support them, and pledge to make the future we believe is arriving for all of us. #WeTogether.
2)
Union government launches National Broadband Mission
•The Union government has launched National Broadband Mission to provide Broadband access to all villages by 2022. The mission aims to connect 600,000 villages across India with an investment of Rs 7 lakh crore in the next 4 years from both government and private sector. The mission is a part of the National Digital Communications Policy, 2018. The mission will secure universal broadband access for implementation of broadband initiatives and aims to offer Internet speed upto 50 Mbps in a phased manner.
•According to the government, 10% of the funds will come from Universal Service Obligation (USO) Fund and the remaining will come from industry in the form of towers and other assets.
3)
GEM launches national outreach programme 'GeM Samvaad'
•Government e-commerce portal GeM has launched a national outreach programme, "GeM Samvaad", to bring on-board more local sellers. The outreach programme will take place with stakeholders across the country and with local sellers to facilitate on-boarding of local sellers on the marketplace. GeM has more than 15 lakh products and around 20,000 services, more than 3 lakh registered sellers and service providers and more than 40 thousand government buyer organizations.
4)
Music festival 'Tansen Samaroh' begins in Gwalior
•In Madhya Pradesh, popular classical music festival 'Tansen Samaroh' began with traditional style in Gwalior with the recitations of Harikatha and Milad. The 5-day festival is celebrated every year in the memory of one of the most eminent singers of Indian history, 'Mian Tansen'.
•Tansen Samaroh, the oldest and esteemed classical music festival in India is organised by Ustad Alauddin Khan Kala Evam Sangeet Academy, under the Madhya Pradesh culture department attracts thousands of musicians and aspiring singers from all over the country. It is the 95th year of the festival. Artistes from Greece, USA, Iran and Belgium will perform in different sessions of Tansen festival.
•Noted vocalist Pandit Vidyadhar Vyas will be presented the National Tansen Award for 2019 today on the first day of Tansen Festival. Instituted by the Madhya Pradesh government, Tansen award carries a cash prize of Rs 2 lakh and is given to outstanding exponents of Hindustani classical music.
5)
Orange festival begins in Manipur
•Chief Minister N. Biren Singh inaugurated the State-level Orange festival at district Tamenglong in Manipur. Tamenglong district is largest producer of orange fruit in Manipur. The state government under the sponsorship of North Eastern Council organise the festival annually to promote the fruit and encourage its growers. 'On day one, orange growers' competition was held and prizes were distributed to top position holders. As part of the festival, cultural show, traditional games, orange queen completion, seminar for growers will be held.
6)
Turkey historic mosque moved before dam waters rise
•In Turkey, the main body of the 610-year-old Er-Rızk mosque was removed from the town of Hasankeyf ahead of its submergence as part of a Ilisu dam project. The Ilisu Dam will generate 1,200 megawatts of electricity, making it Turkey's fourth-largest dam in terms of energy production.
7)
British PM Boris Jhonson re-elected as Prime Minister of UK
•British Prime Minister Boris Johnson has won the historic UK General Election as his Conservative Party crossed the magic number of 326 required for a majority in the Parliament. He is re-elected as a Prime Minister of UK.
•Johnson won the historic election as his Conservative Party crossed the 326-mark required for a majority in Parliament. The latest projections put the Johnson-led Conservatives at around 365, but the party can safely celebrate its victory as it comfortably crossed over the half-way finish line for the 650-member House of Commons. The Opposition Labour party is projected to get 203 seats, a disastrous performance for the party which resulted in leader Jeremy Corbyn announced that he would be stepping down.
8)
Land-attack version of BrahMos missile successfully test-fired from Odisha's Chandipur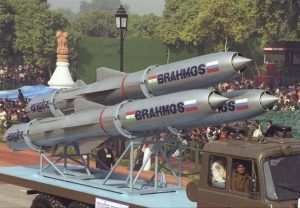 •India successfully conducted a developmental trial of the land-attack version of BrahMos supersonic cruise missile from Chandipur Integrated Test Range, off Odisha coast. The 9-meter long missile can travel at thrice the speed of sound and carry a conventional warhead weighing up to 300 kg. The BrahMos missile is a medium-range ramjet supersonic cruise missile capable of being launched from submarines, ships, fighter jets or land.
9)
Ben Stokes awarded with Sports Personality of the Year 2019 award
•England cricketer Ben Stokes has been voted BBC Sports Personality of the Year 2019. He has become the first cricketer since Andrew Flintoff in 2005 to win the prize.
•Ben Stokes was Man of the Match as England won the 2019 World Cup for the first time with a dramatic super over victory against New Zealand at Lord's. He was presented with his award by the Princess Royal and former Manchester United and Scotland footballer Denis Law.
10)
GoI signs $250 Mn loan with ADB to expand energy efficiency investments
•The Government of India and the Asian Development Bank (ADB) have signed a $250 million loan for Energy Efficiency Services Limited (EESL). The loan aims to expand energy efficiency investments in India that will benefit agricultural, residential and institutional consumers. Additionally, $46 million financing will be provided from the Clean Technology Fund (CTF), to be administered by ADB.
•The project is expected to contribute to the mission of Government of India to promote energy efficiency and meet Government's commitments to reduce energy intensity of the economy. Introduction of energy-efficient technologies in eligible states including smart meters, distributed solar photovoltaic systems and electric vehicles will help reduce electricity network losses and reduce greenhouse gas emissions.
11)
Sridhar Patra appointed NALCO CMD
•Sridhar Patra was appointed as the chairman-cum-managing director of National Aluminium Company Ltd (NALCO). He is at present Director (Finance) in NALCO. He has been appointed as the CMD of NALCO till the date on October 31, 2024. Sridhar Patra replaced Tapan Kumar Chand from the post.