1)
Kerala became 1st State to pass resolution against CAA
•Kerala became the 1st state in the country to pass a resolution against the Citizenship Amendment Act. The resolution was moved by Kerala's Chief Minister Pinarayee Vijayan and was seconded by the Leader of Opposition Ramesh Chennithala. Several other chief ministers of West Bengal, Punjab, Maharashtra, Rajasthan, Delhi have also announced for not implementing CAA in their states.
2)
'Lai Haraoba' ritualistic festival begins in Tripura
•In Tripura, Lai Haraoba, a ritualistic festival observed by Manipuri meitei communities began in Agartala. The 5-day long festival is jointly organised by the Department of Information and Cultural Affairs, Government of Tripura, Puthiba Lai Haraoba Committee and Puthiba Welfare & Cultural Society, Agartala.
•Lai Haraoba is celebrated through oral literature, music, dance and rituals. A cultural troupe from Manipur has also come to take part in the festival. They will be performing various cultural and traditional musical skits including Manipuri martial arts, folk music and folk dances during the festival.
3)
Railways renames RPF as Indian Railway Protection Force Service
•The Indian Railways has renamed its security force RPF (Railway Protection Force) as Indian Railway Protection Force Service. The ministry has accorded organised Group A status to RPF and renamed it. The Railway Protection Force (RPF) is a security force, enacted by the Indian Parliament for "the better protection and security of railway property". The force is under the authority of the Indian Ministry of Railways.
4)
UPSRTC launched 'Damini' helpline service for women
•UPSRTC (Uttar Pradesh State Road Transport Corporation) has launched 'Damini' helpline service considering the safety of the women passengers. As the extension of 'Nirbhaya Yojana' the unique number "81142-77777" has been subscribed for this helpline. Using these helpline women passengers can lodge their complaints by calling the helpline number and by using WhatsApp service.
5)
Iran's Gen Qassem Soleimani killed in US airstrike on Baghdad airport
•Iran's top commander General Qassim Soleimani has been killed in a U.S. drone strike in Baghdad. Soleimani, who led a special forces unit of Iran's elite Revolutionary Guards, has been a key figure of Iranian and the Middle East politics. His death exacerbated already-high tensions between Iran and the United States and triggered concerns of retaliation from Iranian forces. After the news of Soleimani's death, oil prices jumped more than 4% and fuelling fears of a conflict in the crude-rich region.
6)
28th World Book Fair to focus on Gandhi as writer
•The annual New Delhi World Book Fair, in its 28th edition, will focus on how Mahatma Gandhi influenced generations of writers through his writings. The fair, organised by the National Book Trust (NBT) in association with ITPO, will be inaugurated by Union Human Resource Development (HRD) Minister Ramesh Pokhriyal Nishank. The theme for World Book Fair 2020 is 'Gandhi: The Writers' Writer.
•Commemorating the 150th birth anniversary of Gandhi, the theme pavilion, inspired by Sabarmati Ashram, uses hand-spun materials as wall-cladding. Besides an exclusive exhibition of 500 books on and by Gandhi in different languages, it will also host 30-panel discussions, book launches and performances related to the theme.
7)
Swarna Jayanti Fellowships awarded to 14 scientists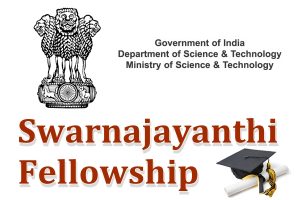 •The Union Ministry of Science and Technology have awarded Swarna Jayanti Fellowships to 14 scientists to pursue basic research in frontier areas of science and technology. The fellowship covers all the requirements for performing the research and includes a fellowship of 25 thousand rupees per month. A research grant of five lakh rupees for five years is also being provided in addition to their salary.
•Swaran Jayanti Fellowships are awarded to young and brilliant scientists to pursue unfettered research with financial freedom and flexibility.
8)
Piyuus Jaiswal honoured with Global Bihar Excellence Awards 2019
•Piyuus Jaiswal was awarded the Global Bihar Excellence Award 2019. This award was presented by Rajya Sabha MP and Padma Shri Awardee Dr CP Thakur and Bihar Women Commission president Dilmani Devi in Patna to promote women empowerment. Piyuus Jaiswal was recently awarded the humanitarian award with the Global Peace Excellence Humanitarian Award 2019 on the occasion of International Human Day.
•The award was given to recognise and felicitated Piyuus Jaiswal's contribution towards social welfare, women empowerment and introducing new talent in the field of arts and culture.
9)
GOI signed MoU with Flipkart under DAY-NULM scheme
•Government of India signed MoU with Flipkart for selling the products made by women self-help groups under Deendayal Antyodaya Yojana-National Urban Livelihoods Mission (DAY-NULM) on the e-commerce platform. Under the Deendayal Antyodaya Yojana-National Urban Livelihoods Mission (DAY-NULM), self-help groups consisting of 44 lakh women have been working across the country, a move aimed at making women financially independent.
10)
Andhra Pradesh Govt. appoints two 'Disha Special Officers'
•The Andhra Pradesh government-appointed Indian Administrative Service (IAS) official Dr Kritika Shukla and Indian Police Service (IPS) official M Deepika, as Special Officers for implementing the Andhra Pradesh Disha Act 2019.
•The Act is intended for speedy trial and faster execution in cases of sexual offences against women in the state. To ensure a speedy trial, the state will set up exclusive special courts in all the 13 districts to deal with cases of offences against women and children including rape, acid attacks, stalking, voyeurism, social media harassment of women, sexual harassment and all cases under POCSO Act.